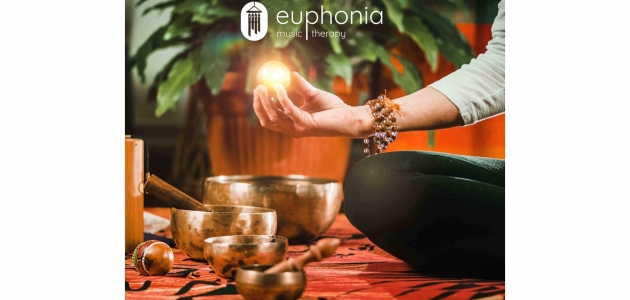 Sound Healing Journey
ATRIUM C - Sunday
13:00-13:50  |  Antonia Michalakakou  |  English, Greek
FB: @EuphoniaMusicTherapy  |  T: 99754881
Sound Healing Journey

In Sound Healing Journey, we promote healing and wellbeing. We use the power of sound through crystal bowls, voice and Tibetan bowls by sending vibrations to the mind/body of a person with the aim to bring him into a state of deep relaxation, balance and harmony. With the pure sonic sounds of the bowls along with the voice, we create a safe space to release physical and emotional pain, unblock trapped energies from the body and connect with the inner self.
Ηχητικό ταξίδι θεραπείας

Στο Ηχητικό ταξίδι αυτό, προωθούμε την θεραπεία και την ευημερία. Χρησιμοποιούμε τη δύναμη του ήχου μέσα από κρυστάλλινα – θιβετιανά μπολ και την φωνή, στέλνοντας δονήσεις στο μυαλό/σώμα ενός ατόμου με στόχο να τον φέρει σε βαθιά χαλάρωση, ισορροπία και αρμονία. Με τους καθαρούς ηχητικούς ήχους των μπολ μαζί με τη φωνή, δημιουργούμε έναν ασφαλή χώρο για να απελευθερώσουμε τον φυσικό και συναισθηματικό πόνο, να ξεμπλοκάρουμε ενέργειες από το σώμα και να συνδεθούμε με τον εσωτερικό εαυτό μας.
Single Event Page
This is a single event page with sample content. This layout is suitable for most websites and types of business like gym, kindergarten, health or law related. Event hours component at the bottom of this page shows all instances of this single event. Build-in sidebar widgets shows upcoming events in the selected categories.
No upcoming events for today